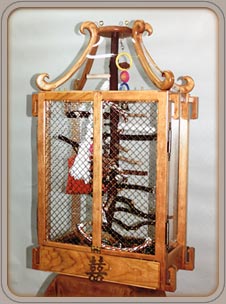 Custom bird cages are unusual but interesting commissions. This wooden bird cage is for a Sun Conure, which is a small South American parrot. I was tasked to build the "perfect" cage, taking into account the shortcomings of standard cages. Additionally, it was to be of cherry, have a Ming Dynasty theme, and fit very specific dimensions. I designed the cage with removable Plexiglas panels so the cage itself would never have to be cleaned. The bottom of the cage is actually a drawer with full extension glides. This allows it to be pulled out for feeding, cleaning, and creates a space for the bird to be out of the cage, while still protecting the floor from any mess. The front doors open wide, and the brass mesh allows a climbing surface for the bird. The vertical center branch is manzanita wood, and it's suspended from the top so it doesn't interfere with the drawer. It's also removable. I don't know if this custom bird cage would be considered "perfect," but the client was very pleased with the project.

| | |
| --- | --- |
| | Several articles have been written on a chair I designed and produced called the "Chairiot." The Japanese were my biggest customers. This was very flattering to me, because it is well known that they are very demanding regarding the quality, fit and finish of their furniture. |

Architectural Arts also builds a variety of handmade furniture pieces, such as luxury baby furniture and custom beds.