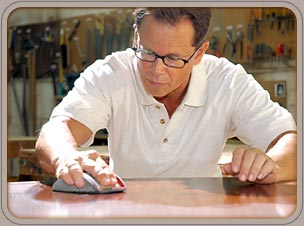 Randy Block has had a long and successful career in custom design furniture, and he continues to produce original work from his office and shop in Little Rock, Arkansas. The following article has appeared in the magazine At Home in Arkansas and has been slightly edited for the Web.
Randy Block has never been easily satisfied. After several years as an executive with American Express investments, Block did a 180-degree shift and turned to his longtime passion - building custom design furniture - as a full-time career.
"I love working with wood and being creative," says Block. He financed his Little Rock business, Architectural Arts, through contracts to construct custom office furniture, but even that could not satisfy his creative impulse.
When a client approached him to recreate a custom bed from only a picture in a book, Block was thrilled with the prospect. "I like to do things that haven't been done before," he says. The bed that his client requested was made by German Craftsman Michael Thonet and was last produced by the Thonet factory at the end of the 19th century.
Block spent an entire month simply doing research on the bed's construction. He then worked on the bed for six months, at times steaming pieces of Honduran mahogany for the better part of a day and then placing them in jigs, or forms, with as many as 24 separate pieces that had to be reassembled in less than 45 seconds to keep the wood from cracking. When the bed was complete, his clients were so impressed that they commissioned him to design a custom entertainment center, two custom end tables, and a sofa table echoing the Bentwood design.
Designing and constructing custom furnishings for clients has given Block the satisfaction he was missing in the corporate world. "I only do custom orders," he says. "That way I can create something that speaks to each client individually, rather something generic".