Architectural Arts builds custom kiosks for businesses, organizations, and museums that wish to present educational, multimedia, interactive, DVD-driven floor displays with touch sensor technology.
These custom, multimedia, touch-screen kiosks were made for the City of Little Rock Convention and Visitors Bureau. The challenge here was to make all of them recognizable as LRCVB information kiosks while customizing each one to its particular location.
| | |
| --- | --- |
| This kiosk was designed to match the decor of the newly renovated Little Rock National Airport. | |

| | |
| --- | --- |
| | This kiosk design was entended to match the theme of a new display at the Old State House Museum in Little Rock, Arkansas. |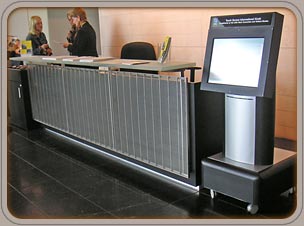 This is the Information Kiosk for the William J. Clinton Presidential Library. It was an honor to be asked to design and build so prominent a fixture in a building of such architectural and historical importance. The kiosk is made from the same material used in the main entrance hall of the library. The column that holds the touch-screen monitor is an ellipse that emulates the Oval Office theme used throughout the building.

Architectural Arts builds handmade furniture in a wide variety of styles. We also make office furnishings, such as custom conference tables and custom business signs.