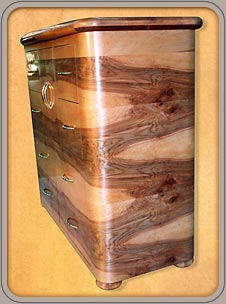 Architectural Arts has produced a number of unique solid wood dressers, and on this page you will see an example of a finely crafted bedroom dresser custom designed to be child friendly.
This is not actually a solid wood dresser, as it made from a single piece of 3/4" birch plywood. The drawers were cut from the same single piece and allow for less than 1/16" spacing around their perimeter. There is no joinery on the front of the cabinet. The drawers were cut out and then placed back into the spaces they came out of. Each is mounted on a full extension drawer glide. All of the exposed plywood edges were covered with 1/8" thick cherry edging, added into the wood to maintain the integrity of the birch face. The top is solid maple, curved to match the base, and has a mahogany inlay in the front. The two doors in the middle of the dresser allow for additional storage. This is a piece of children's bedroom furniture, built with child safety in mind.

Architectural Arts builds handmade furniture in a wide variety of styles. Our solid wood dressers are nicely accompanied by our custom beds and custom wood desks.