Architectural Arts has been contracted to design a wide variety of credenzas, which can be used for many purposes. Some clients request entertainment credenzas, while others prefer wine credenzas or TV credenzas. In truth, a single credenza can be used for any of these functions, although individual requirements may vary.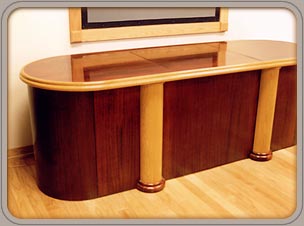 This handmade credenza was made to match the conference table. It follows the theme of the table with two interesting additions: A remote control operated lift rises from the center of the credenza to reveal a large television used for presentations, and the ends of the piece are mounted on hinges. Pushing on either of the Doric columns allows the end of the cabinet to swing open and gives access to the storage shelves on either side. This furniture item can also serve as an entertainment credenza, wine credenza, or a TV credenza depending on the room usage.

Architectural Arts builds handmade furniture in a wide variety of styles. Our entertainment credenzas are popular living room furniture pieces, which nicely accompany our custom end tables and custom sofa tables.